29/01/46 – 22/03/2022
We lost a dear friend and colleague of 50 years yesterday.  Mike Pinch was dearly loved by us and his students alike whose number are numerous.  Thanks to his expertise they have had a wonderful start in this industry to which he added so much, in so many ways.
Goodbye Dear Man.
Welcome All!
This week sees our second group of F Gas students and our 15 day delegates in centre.  It feels great to be back and doing what we love and meeting so many great guys.  With our rigorous COVID regime in place, everyone is safe in the knowledge that they can train without worrying.  See you soon!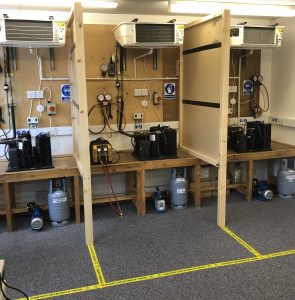 30th Birthday Today!!
🎉🎉🎉🎉🎉🎉🎉🎉🎉🎉🎉🎉🎉🎉🎉
We are proud to be celebrating our 30th Birthday today! 🎉 We are also looking forward to welcoming new team members, new courses and new students in 2021! Excited about an epic year ahead!!
Happy New Year all! 🎉
The R is down and we are UP and Open!
Whilst we have been providing online training to some of our Diploma students throughout this latest lockdown, we are very excited to be welcoming our students back into the centre on Monday 7th December!
Lockdown 2.0 News
Although we have strict COVID-19 secure measures in place and have done everything we can to keep our students and staff safe and well in these unprecedented times, in light of this second lockdown, we have taken the difficult decision to close our doors for face to face training until these lockdown measures have eased again.
Obviously our courses are mostly practically based and therefore can only be done remotely in a limited manner.  We draw candidates from all over the country and therefore need to do our part to limit the spread of the virus as best we can.  Rest assured we will be rescheduling each and every course and will be in contact with you as soon as we can book you in. Dates will be offered in chronological order to those who still want to proceed, or a full refund will be offered.  Contact the office to discuss your training with a member of our team for more details.
In the meantime we will continue to train our Diploma Students online with the theory elements of their course and will be busy planning and preparing content for our new and exciting courses that we will be launching in 2021!  Watch this space!
ITS NOT GAS, ITS REFRIGERANT!
I am constantly being told by heating/gas engineers and plumbers that 'they know all about gas'.  Therefore, they won't have a problem, they already know all about it.
While refrigerant is often called gas, it is NOT!
Anyone who has attended here with this misconceived idea has had a shock and they quickly tell us 'it's nothing like gas' which is quite correct.
Likewise, with brazing, it's nothing like soldering copper pipe.
And by the way, nor is the pressure the same! We are talking about systems that work up to 40 bar and need to be tested up to 42 bar??
With so much new to learn, candidates also need to understand the 'F Gas' is a basic entry level qualification about how to handle refrigerants ONLY, why the legislation is there and how to protect the environment.  It does NOT make you an air conditioning engineer!
Reopening 29th June 2020
We are very glad to welcome our students back on 29th June with all our Covid-19 measures in place (now the new normal!)
COVID-19 News 20th May 2020
Currently, Government advice is that limited numbers of school children may be returning to school on 1st June, with the possibility of some 16-19 year olds returning.
They advise that further education colleges may 'begin some face to face support with year 10 and 12 pupils (only), although we do not expect these pupils to return on a full-time basis at this stage'.
This position will be reviewed on 30th May when further information will be available.
We are obviously anxious to reopen but regard too swift a reopening to be reckless as we must safeguard the health of our staff and students alike.  To this end we will obviously be working within Public Health England and Government guidelines, our COVID-19 Risk Assessment is available.
Training will look quite different going forward, as too will our Training Centre, where we are currently setting the scene for the 'new normal'.
Watch this space for further updates.
Closed BUT Open for Business
We unfortunately had to close our doors to students on Friday 20th March 2020 however we are very much open for business and are here to take your calls and enquires regarding your training requirements so please do get in touch if we can be of any assistance.
These are worrying times for us all but going forward we must look to the future and training will be very much a part of that.
Go carefully and stay well.
COVID-19
It is with much sadness that I regret to inform you following the Government's announcement to close ALL schools, colleges and nurseries, that we will be closing on Friday 20th March 2020.
We expect this closure to be in place for at least two months but will obviously reschedule and re-open as soon as we are able.
The welfare and wellbeing of our students and staff is of paramount importance to us and we believe we are morally obliged to follow the instructions to help preserve the health of the old and vulnerable in society.
Going forward we will be offering all candidates the opportunity to do 'sofa study' courses wherever possible by logging into our live tutorials via any digital device, further details to be announced shortly.
We wish you well in these difficult times and look forward to speaking with you soon.
Coronavirus COVID-19
We take Coronavirus COVID-19 extremely seriously and are doing everything possible to mitigate the risk to our students.
Our cleaners have initiated a cleaning programme using products to help reduce the risk and we also clean door handles, switches, work surfaces etc. during the day.
We have provided sanitisers at the entrance and around the building to reduce the possibility of transmission, should anyone be carrying the virus and are asking students to wash their hands thoroughly on a regular basis.
If possible, please ask your candidates to bring their own sanitiser.
There is no reason NOT to attend courses and rest assured we are keeping a close eye on developments and will act accordingly.
In the meantime if any of your staff/candidates answer YES to any of the questions below:-
Have you visited Mainland China, Japan, Hong-Kong, Malaysia, Thailand, Taiwan, Macao, South Korea or Singapore recently?
Have you visited Europe in the past 14 days?
Have any family members, who reside with you, been to any of the above locations or exposed to the Coronavirus COVID-19 within the last 14 days?
Do you currently have any flu-like symptoms, cough or fever?
Please contact us immediately so that we can rearrange their training.
As the situation changes we will take measures, as we see fit, to ensure the health and safety of our students and staff alike.
New Era, New charity
We are thrilled that in this new decade, we have decided to support Moorfields Eye Hospital as our favoured charity.
None of us can function well without sight and having been party to many of the advances that have been made over the last few decades due to the research done by Moorfields, it is a deserving charity.
Having raised almost £25k for Help for Heroes over the past decade, we have decided, with the help of our student's donations to the coffee machine, to spread the love to another, well deserving charity.
We hope that you will continue with your support of our charity when you next visit and would like to thank you in advance.